Headteacher's Welcome
I am immensely proud to be the Headteacher of Charters.
Our values of Unity Respect Excellence run through everything we do as a school community as we know that individuals who can work as part of a group or team, support others to develop ideas and understanding, will excel in whatever they do. This will enable them to help shape the communities in which they live and work in the future and create a sense of belonging as individuals.
We are a school that fosters positive relationships across the whole community and is committed to ensuring that our students have outstanding learning opportunities across a broad curriculum. These experiences will help develop their curiosity so they can approach the future with confidence and optimism.
We have high expectations of our students in terms of involvement, work and behaviour. Alongside this, we support individuals to try new experiences to see how far they can go, whether in the classroom or through our extensive extra-curricular programme; this helps develop an individual's creativity, resilience and empathy, which helps build individual character.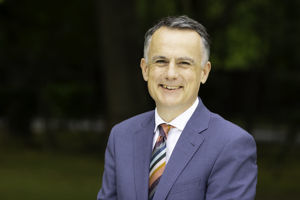 Mr John Fletcher - Headteacher