Pastoral
WELLBEING STATEMENT
Charters School is committed to promoting and supporting good mental health and wellbeing for all students and staff.
The World Health Organisation defines mental health as: "A state of wellbeing in which every individual realises his or her own potential, can cope with the normal stresses of life, can work productively and fruitfully, and is able to make a contribution to her or his community."
At Charters, our aim is for each member of the school to be able to play a positive part in the school community, meeting challenges with resilience and working towards reaching their own potential. To facilitate this, we offer a range of support, education and opportunities.
STEPS TO WELLBEING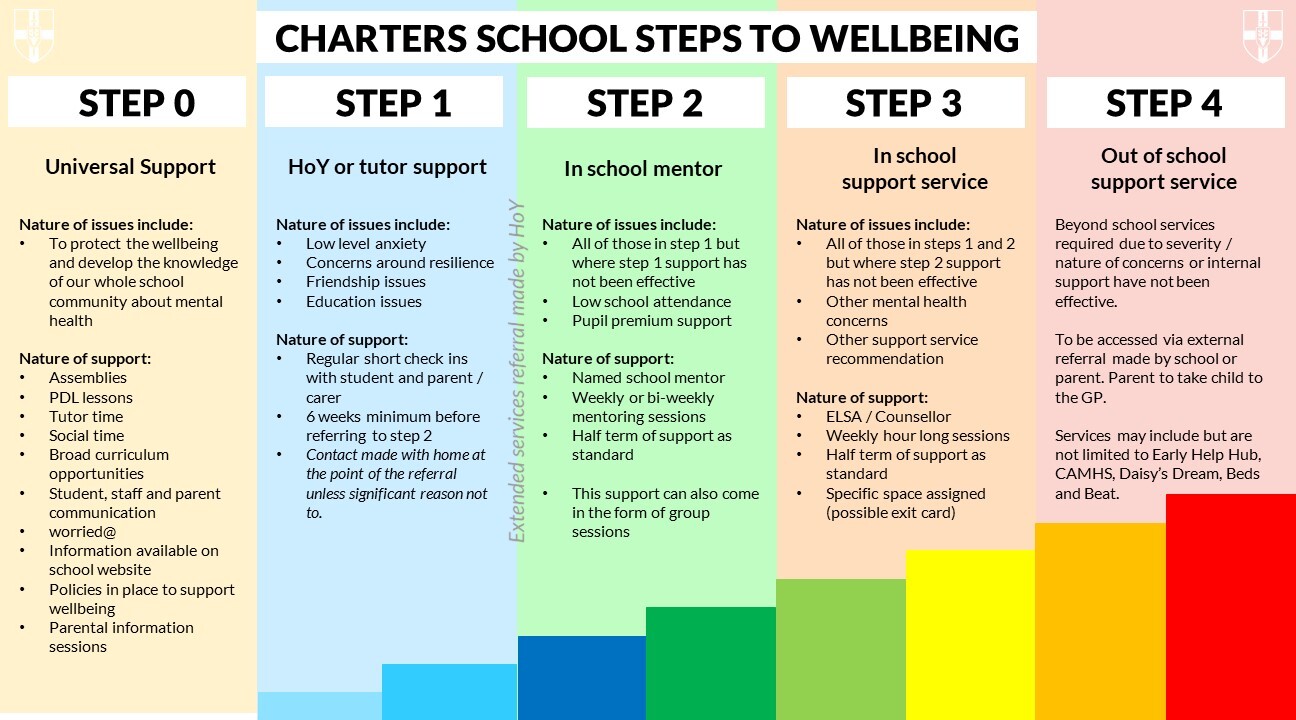 Raising awareness events such as World Mental Health Day
Staff training on mental health and wellbeing
OPPORTUNITIES
Students are encouraged to apply for national mental health programmes such as the Young Health Champions
We hope to explore peer education projects in the future
WHAT TO DO IF YOUR CHILD IS STRUGGLING WITH THEIR MENTAL HEALTH
Your first point of contact is your child's Tutor. They will be able to connect you to the appropriate member of staff in school relative to your child's individual circumstances. If this isn't appropriate because of the nature of the issue, then please contact the Head of Year.
Students are also able to email worried@chartersschool.org.uk to start their own conversation around something that is troubling them. All emails to this account are monitored and followed up.
You can also access a range of external support using the links below:
Coping - A Young Person's GuideCoping - Five Ways to WellbeingLoneliness Guide for Parents and Caregivers