Regular Donations
Having a guaranteed income from generous monthly donations allows us to make long term plans.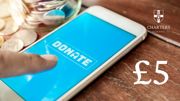 CAN YOU SPARE £5 A MONTH?
This is the equivalent to:
1 glass of wine

2 cups of coffee

3 hours of parking in central Windsor
WE WOULD LIKE TO ENCOURAGE AS MANY FMILIES AS POSSIBLE TO MAKE A REGULAR DONATION TO OUR SCHOOL
If 300 families donated £5 a month, we could raise £22,500 (with Gift Aid) in one year to purchase an outdoor canopy for our grounds.
If 300 families donated £10 a month, we could raise £45,000 (with Gift Aid) in one year to purchase two canopies; one for the Sixth Form and one for the main school.
If 300 families continued to donate £10 per month throughout the seven years that their child attended Charters School, it would raise an astonishing £315,000.
With the help of regular parental donations, we recently took delivery of three brand new leased minibuses.
The easiest way to donate is by using the button below that links directly to our CAF Donate page.

If you are a UK taxpayer, please tick the Gift Aid box. This will allow us to claim an additional 25p for each £1 donated and won't cost you anything extra; in fact, higher and additional rate taxpayers can claim a tax reduction on their donation.

Thank you