Careers
QUICK LINKS TO CAREERS INFORMATION
APPRENTICESHIP, UNIVERSITY OR FULL-TIME EMPLOYMENT USEFUL LINKS
HOW EMPLOYERS CAN GET INVOLVED WITH CAREERS AT CHARTERS
INFORMATION FOR PARENTS AND CARERS INCLUDING COLLEGE OPEN DAYS
UPCOMING CAREERS OPPORTUNITIES
CAREERS EDUCATION AT CHARTERS
Whatever route students want to take in the future, apprenticeship, university or full-time employment, we are here to help them choose the right path. Charters has a dedicated and experienced Careers team who are here to help guide students through their career and future options:
Careers Lead:Mrs Henly 01344 624 826
Our external careers advisers are employed by Learning to Work, who provide our students with independent and impartial careers information, advice and guidance.
In keeping with our commitment to provide Charters students with outstanding careers guidance and tailored support when choosing their next step after school, we also use Unifrog; an award-winning, online careers platform. We have now set up parent/carer access to this platform.
Unifrog brings into one place every undergraduate university course, apprenticeship, and college course in the UK, as well as other opportunities, such as School Leaver Programmes, MOOCs and every college at Oxford and Cambridge. This make it easy for students to compare and choose the best university courses, apprenticeships or further education courses for them. They can also explore exciting opportunities further afield by looking at English taught undergraduate programmes available in Europe and the USA.
GATSBY BENCHMARKS
Our Careers guidance follows the Gatsby Benchmarks and you can view our Careers Map for 2023/24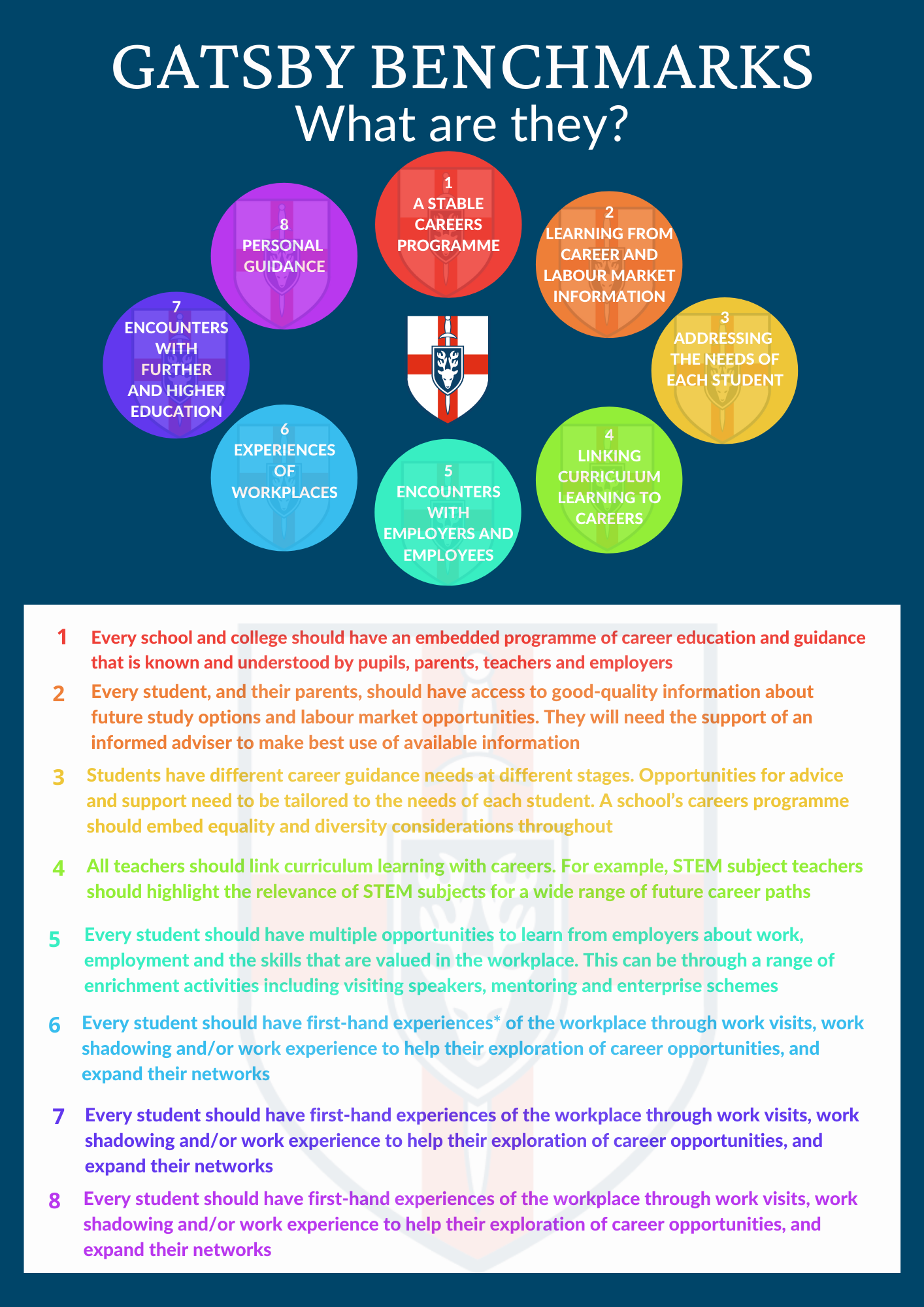 STATEMENT ON PROVIDER ACCESS
Please click here to be taken to our Statement on Provider Access.
Our careers information is reviewed annually.
CAREERS CHARTER
As a student at Charters, we want you to have the best careers advice to inspire you to aim high and be successful in your chosen career.
We will help you learn about jobs, employers, further and higher education, applications, employability skills and entry requirements.
You will learn about careers through the fortnightly tutor period, PSHE lessons, assemblies, trips, events and enrichment activities.
Anyone can request an individual careers interview, which will help you to explore your next steps and the skills you need. We will also provide you with a range of careers resources.
DESTINATIONS
INFORMATION FOR PARENTS AND CARERS INCLUDING OPEN DAYS FOR COLLEGES
OPEN DAYS
BCA: 2 March 2024
Reading College: Weds 28 Feb (16:30-19:30); Weds 1 May (16:30-19:30)
Bracknell & Wokingham College: Weds 6 March (16:30-19:30); Weds 8 May (16:30-19:30)
Guildford College: Weds 7 Feb (16:30-19:30); Weds 24 April (16:30-19:30)
Merrist Wood College: Weds 28 Feb (16:30-19:30); Weds 1 May (16:30-19:30)
Farnham College: Weds 21 Feb (16:30-19:30); Weds 8 May (16:30-19:30)
EXTERNAL PARTNER - LEARNING to LEARN
Our careers IAG external partner is Learning to Learn who are availble 2 days a week at Charters.
InvestIN
Students are able to acces to InvestIN, a platform which allows for an immersive experience in a range of careers. Students will learn from top professionals through a series of role-plays, seminars, simulations and networking sessions.
MOCK INTERVIEWS
Students have a mock interview iduring the Autumn term of Year 11. Local employers assist with the interviews. Students prepare for this during Tutor period sessions in Year 10. They are required to produce a CV, a letter of application and complete a job application form. After the interview, students receive feedback on their interview performance as well as feedback on their documents.
CAREERS FACILITIES
The Library has comprehensive careers resources on further and higher education, apprenticeships and employment opportunities. There are also careers resources which focus on the needs of students in Years 10 and 11.
CAREERS FAIR
We invite many employers in to talk to our students about the opportunities available to them. In addition, we invite representatives from universities, gap year organisations and local colleges. The Careers Fair is open to students in Years 9, 11 and the Sixth Form. Students in Year 10 can attend during break time. The next Careers Fair will take place in 2022.
MORRISBY PSYCHOMETRIC TESTING
This is available for students in Year 10 and upwards and is conducted by Adviza. The assessment and technology helps students discover a career path that inspires them.
RELATIONSHIP WITH PARENTS AND CARERS
The school has well established procedures for involving parents/carers in the Options Evening programme in Year 9 and the Sixth Form prospective students' evening.
In addition, parents are informed through the Headteacher's Newsletter of all activities which affect their child.
WIN THAT JOB
A parent/carer's guide to supporting their child through their career choices. Click here to read.
APPRECTICESHIP INFORMATION FOR PARENTS AND CARERS
Parents and carers may find this comprehensive information regrading apprecticeships useful.
GET IN TOUCH
If you would like to arrange a careers appointment for or with your son/daughter, please contact their tutor requesting an appointment with a careers advisor.
If you own, run or work for a business that would like to get involved – we would love to hear from you. Also, if you would like to mentor a student or a group of students who are interested in the industry in which you work or have retired from, please contact our Careers team.
APPRENTICESHIP, UNIVERSITY OR FULL-TIME EMPLOYMENT USEFUL LINKS
HOW EMPLOYERS CAN GET INVOLVED WITH CAREERS AT CHARTERS
WHY HELP?
We aim to help every student to reach their full potential and progress on to a successful destination by providing them with the widest possible range of employer and careers related opportunities. We appreciate that your time is precious and value your contribution, whatever this may be, to ensure that every child leaves us aspiring towards, and equipped for, a happy and successful future.
If you are interested in helping our Careers Programme please use the link below to contact our Careers lead.
Thank you.
WAYS YOU CAN HELP
To assist with this, we have provided a breakdown of the ways you can support us. The list is not exhaustive — we are always on the look-out for new ideas and suggestions.
Site Visits Host small groups of students. 2 – 4 hours
Interview Preparation Share tips and help with mock interviews. 1 – 4 hours
Work Experience Provide a placement for one or more students for one week. Charters School has teamed up with CA Technologies to develop an Employer's Guide to preparing and delivering an engaging work experience programme. If you would like to provide a work experience placement to Charters students, the guide includes useful information to help companies introduce a high-quality work experience programme to help students develop employability skills.
Careers Events Attend our Careers Fair. 4 hours. View some of our 2023 exhibitors here
Guest Lectures Share your expertise with a group of students. 1 hour
Guest Speakers 'A day in the life of…' 20 minutes
Projects Set a challenge for students & judge the results. 2 hours
Friday Challenge Spend a Friday lunchtime with our students. 2 hours
Sponsorship Sponsor a school event financially/in kind. Flexible
Employability Skills Share your Networking and Business skills. 1.5 hours
Training Train staff or a class with a specific skill. 1.5 hours
Student mentoring Help our students who wish to join the industry you are in or have retired from. 2 hours
MEASURING AND ASSESSING THE IMPACT OF OUR CAREERS PROGRAMME
DfE Destinations Data which analyses post 16 and post 18 choices looking at the variety of student destinations, retention rates and those not in training, education or employment
Thames Valley Berkshire Hub School - bringing together schools and colleges with employers, universities, training providers and career professionals to improve outcomes for young people, through a relentless focus on best practice. Charters has access to support and funding, including an expert 'Hub Lead' to help co-ordinate activity and build networks, a central fund to support employer engagement activities, and training for a Careers Leaders in school
Enterprise Adviser — External visitor who works with the school supporting work on attaining the Gatsby Benchmarks and assessing the impact of our careers provision
Collecting the views of students on the Careers, Education, Information, Advice and Guidance (CEIAG) they received from ADVIZA during their five or seven years at Charters
Senior Leadership Team Careers link Mrs C Henly to provide a stable careers programme and internally assess success via a range of sources including student voice, parent voice and careers audit.

Review of Careers Programme:
Charters School's Careers policy and strategy are reviewed on an biennial basis.
Next review May 2023