Catering
CUCINA
The Dining Hall restaurant at Charters is run by Cucina. The restaurant operates on a cashless basis with all transactions being made through the Biometric, fingerprint recognition system and online top ups through Parent Pay. At the bottom of this page you can set a daily spending limit for your child by completing the form and view the menus and price list.
Discover the delicious range of food that is on offer HERE.
12 DAYS OF CHRISTMAS
During the last few weeks of this term, Cucina will be offering different specials from this festive menu HERE. This will change daily and will be a selection of the menu.
CHRISTMAS LUNCH
Details of this year's Christmas lunch for students can be found HERE.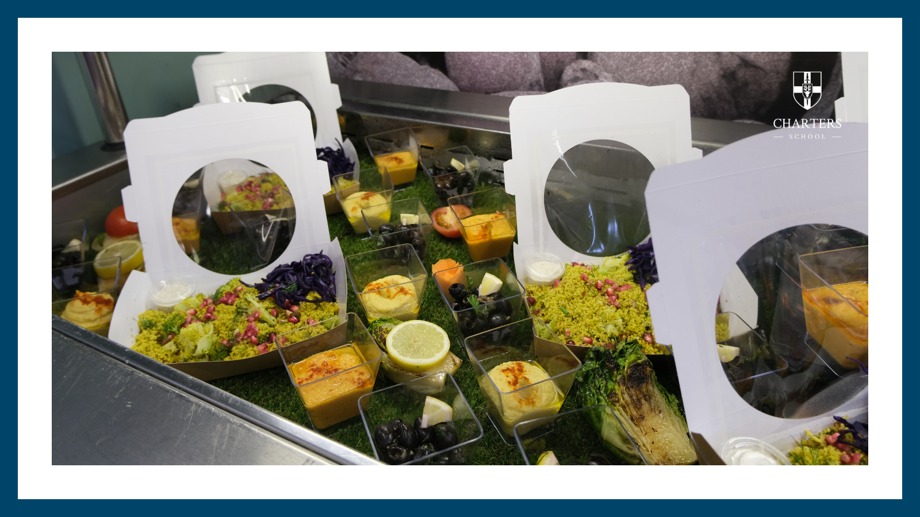 ALLERGENS
Students who are concerned about potential allergens are encouraged to speak to the Chef who will talk them through the food of the day.
Parents with concerns about allergens are asked to contact Cucina directly to discuss specific issues.
HALAL MENU
Students who would like Halal options are encouraged to speak to the Chef who will talk them through the food of the day.
Deli items that are made with Halal products are indicated on the label.
Parents can email Cucina directly to discuss specific requirements on an individual basis.
BIOMETRIC INFORMATION AND HOW IT WILL BE USED AT CHARTERS SCHOOL
Biometric information is information about a person's physical or behavioural characteristics that can be used to identify them as part of an automated recognition system, for example, information from their fingerprint. Please read our Biometrics Policy to see how the school plans to take and use this information from your child's fingerprint.
Please read our responses to the most Frequently Asked Questions.
The school is working with BioStore Ltd, an experienced provider of biometric systems. Their Data Protection Statement can be read here.
Should you have any queries regarding Biometrics, please contact us.
FREE SCHOOL MEALS
For those who qualify for free school meals, Cucina are unique in offering any two items purchased together during Period 3 lunch break, regardless of price. The free school meal allowance does not apply to items purchased outside the lunch break. For further information and to apply, please use the buttom below:

LOW BALANCE ALERTS
Parents can set low balance alerts on Parentpay to let them know when their child's lunch balance has fallen below a minimum amount.
Please log into your account in ParentPay-Communication-Alert settings. It's probably a good idea to check that your registered email remains correct by following the link on the page. Then under Balance-Alerts enter the minimum Threshold value for each child against the Dinner Money for Charters School service and tick for email alert.
Email alerts are free, if you would prefer to receive a text alert you will need to top up the Text Message
Balance.
FOOD WASTE HEROES PROGRAMME
We're excited to announce that we've partnered with Olio to fight food waste!
From September 2023 we will be working with Olio to make sure no food goes to waste from our Dining Hall.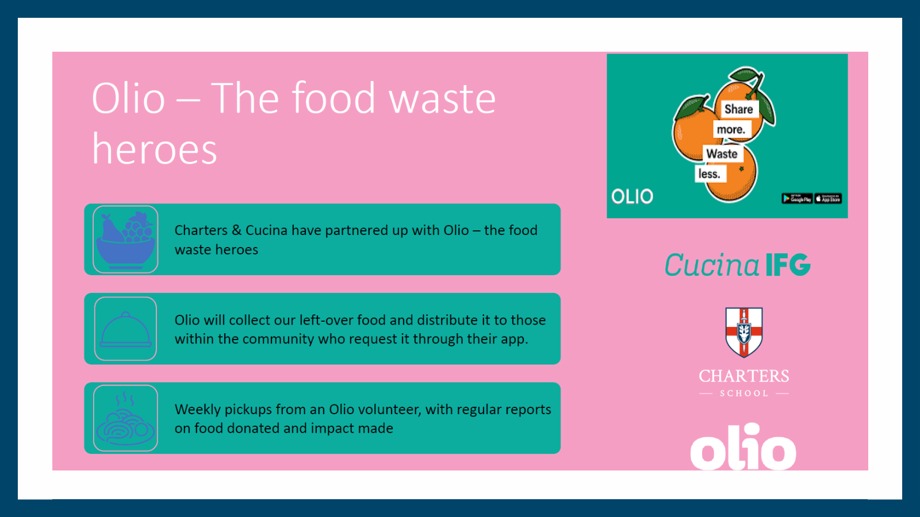 HOW DOES IT WORK?
It's simple: Olio volunteers collect whatever food doesn't get eaten and shares any spare food with members of the local community - quickly and safely - via Olio's app.
Our spare food ends up feeding people in the local community, rather than going to waste. Plus, sharing food through Olio means we're helping care for the climate, too.
HOW CAN YOU GET INVOLVED?
As well as offering schools like ours a way to redistribute uneaten food, Olio is also a sharing app for local communities, on a mission to fight waste. It makes it easy to pass on the things you no longer need — from food to furniture, and clothes to books — to people who live nearby.
You can also use Olio to see what food you could collect for free in the local area. Download Olio on Google Play or the App Store and get started today.
CUCINA MENUS AND PRICE LISTS
Cucina Daily Spend Limit Request