23rd Jul 2021
Read our weekly round up of events and notices every Friday during term time.
THIS WEEK...
A very unusual academic year has finished. Thank you to all who have shown the capacity to be resilient, supportive, adaptable, and understand the constant change that school has to deal with at short notice.
I do hope that you manage to have a restful, relaxing break over the summer.
STAFF LEAVERS
The following staff are retiring this year:

Mrs Csemiczky and Mrs Witting are both retiring this year with a joint service of 56 years at the school. They will be greatly missed, we wish them a restful and long retirement.
Mrs Csemicky has been bringing Latin to life for thirty-seven years at Charters whilst Mrs Witting has supported students in the Food Technology department, helping them to understand healthy eating and the chemistry of cooking. Many of her former students have gone on to careers in the catering industry. An annual award is to be set up for the student who makes the most progress in Food Technology.
In addition to Mrs Csemiczky and Mrs Witting, the following staff are leaving this year to take on new challenges far and wide, we wish them the very best and thank them all for the support they have given our students while they have been here.
Mr Peter Dunford - Head of Business and Economics
Mrs Maria Kennedy - LRC Manager
Mrs Gurdeep Bilkhu - Head of Social Sciences
Mrs Julie Goodley - Teacher of Science
Mrs Elizabeth Smith - Teacher of Science
Miss Rebecca Bardwell - Teacher of Sociology
Mrs Sophie Cooper - Teacher of Food Technology
Mrs Emma Rivers -Teacher of Science
Mrs Karen Padrick - Teacher of Design and Technology
Mr Richard Sutton - Teacher of Maths

In September we will be welcoming these new members of staff:
Mrs P Mittal - Head of Business and Economics
Miss Hannah Follett - Teacher of Science
Miss Lucy Wrench - Teacher of Mathematics
Mrs Samin Heidary - Teacher of Food Technology/DT
Mrs Louise Magrath - Teacher of MFL and Business
Miss Libby Smart - Teacher of Sociology
Miss Abbey Blatchford - Teacher of Science
Miss Rachel Joel - Teacher of English
Miss Rebekah Sebastian - Teacher of Mathematics
Miss Bethanie Hookway - Teacher of Social Science
Miss Mayada Hatamleh - Teacher of Science
Miss Alice Doran - Graduate Teacher Assistant
Mr Connor Whiteside - Graduate Teaching Assistant
NOTICES...
EXAM RESULTS DAYS INFORMATION
10 August Year 13 A Level/BTEC results can be collected between 8.30 and 11 am.
12 August Year 11 GCSE/BTEC results can be collected between 10.00 am and noon.
The National Careers Service is providing a series of webinars for parents and carers whose children are receiving results this August, to give advice on options and tips for helping their child prepare for results day.
SUMMER WORKS
We have been fortunate over the last few years to be able to update and improve our facilities and as we reach the end of this academic year we are once again taking the opportunity to continue our planned programme of improvement. Our Facilities and IT teams will be working alongside external contractors over the summer preparing the school ready for the start of the new academic year. The trustees have approved some additional expenditure this year, meaning we will be able to complete some of our work earlier than expected.
For your information, the summer works will include refurbishment of the Main Hall and Sixth Form Common Room. Furniture will be replaced in the Durning Room and decorating will take place in some of the communal areas of the school. Two sets of year group toilets will be refurbished and our CCTV network will be expanded to improve safety and security across the site. IT hardware will be updated in some areas and we will continue with our ongoing programme to improve the school network. In addition we will be replacing display boards around the school and embedding our values of Unity Respect Excellence across the site. We will post progress updates on our social media accounts throughout the summer break.

PLANNING FOR SEPTEMBER
TEST KITS
We will be asking students to test the evening before they return to school in September. We will then test them on their return also. In doing this, we will significantly lower the risk of positive contact in school. We have tried to get as many test kits out today to students. For those who do not have a lest kit for the start of term, they can be order here. Alternatively, you can collect test kits from a local collection point.
START OF THE SCHOOL YEAR
School gates will open at 8.00 am. The Dining Hall will be open from 8.00 am and The Library from 8.15 am. Tutor time starts at 8.30 am.
FRIDAY 3 SEPTEMBER
Year 7 and Year 12 are due in school. Year 7 need to report to the Astroturf and Year 12 to the Sixth Form Common Room.
MONDAY 6 SEPTEMBER
All year groups are due in school.
STUDENT NEWS...
ENGLISH SCHOOLS ATHLETICS ASSOCIATION NATIONAL FINALS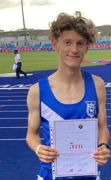 Very well done to Josh in Year 10 and Amber in Year 11 who represented Berkshire at the English Schools Athletics Association National Finals earlier this month.
Josh finished fifth in the 1500m steeplechase and Amber twelfth in the 300m, competing alongside some of the best junior athletes in the country.
E-WASTE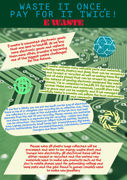 Year 9 student Tom produced some outstanding work in Computing this week. Students have been learning about the problems of E-waste (i.e. unwanted electronic goods going to landfill sites). They have learnt that devices such as computers, contain valuable metals e.g. gold, which can be recycled and re-used for all sorts of purposes include mending your teeth with gold crowns! The students were provided with some textual information and asked to present it in a way that would encourage people to get involved with recycling e-waste. Tom's poster would certainly catch many an eye!

TOYKO 2020 (21)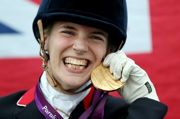 We have two former Charters students representing Team GB in the Paralympics and Olympics this summer.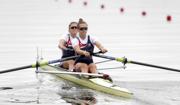 Sophie Christiansen has been selected to represent GB at her fifth Paralympic Games, in dressage and Harriet Taylor will be representing GB in the Women's Four (W4) rowing squad. I am sure you will join me in wishing them the very best for their competitions.
OTHER NEWS THIS WEEK...
BOOK DONATIONS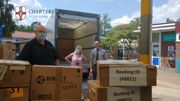 The Science department has donated some of its old textbooks to the charity Books2Africa. Mr Beckingham arranged for Tremayne Distributions to take around 1000 out of date text books to the charity's Canterbury depot this week. They will then be shipped to Africa, enabling individuals and communities to acquire knowledge and achieve their full potential.
PATHWAYS CTM
Pathway CMT is a free programme to provide students with information on careers advice and further information can be found here.
COMMUNITY NEWS...
DO YOU WANT TO TEACH?
Former teachers holding Qualified Teacher Status who want to teach Maths, Physics or Modern Foreign Languages could gain one-to-one support from a Return to Teaching Adviser (RTTA). There are also upcoming online events for returning teachers to ask any questions they may have. Job alerts can be set up through the DfE's Teaching Vacancies job-listing service to help search for roles in specific areas, filter results by job role, education phase and working pattern.
SUMMER CAMPS
Imperial College London will hold the Bugs, Birds and Beast Day again this year at their Silwood Park Campus (Ascot) on the 31 August. Bugs, Birds and Beast Day is a nature activity for families, hosted outdoors and following all the COVID guidelines as provided by the Government and College.
Information can be found on this flyer and/or visit their website (https://www.imperial.ac.uk/georgina-mace-living-planet/events/bugsday/) for relevant information about the event.
If the National COVID restrictions/guidelines change, it may be necessary to cancel the event at short notice. Any updates and notifications will be posted on the event page of their website (https://www.imperial.ac.uk/georgina-mace-living-planet/events/bugsday/)
Sport4Kids have summer camps starting next week. Further details can be found here.
Disclaimer: Any websites and apps mentioned in the Weekly Newsletter are not endorsed by the School and are used at your own discretion. Any views or opinions expressed within the website or app are not necessarily those of Charters School.