20th Jul 2021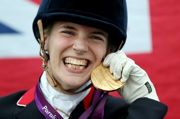 We are incredibly proud to hear that two former students are looking forward to representing Great Britain at the forthcoming Tokyo Games.
Sophie Christiansen has been selected to represent GB at her fifth Paralympic Games, and as an eight-time gold medallist she has competed at every Paralympics since Athens 2004, when she was still a student at Charters.
After winning gold at the London 2012 Olympics, the postbox outside Farrow and Ball in Sunningdale was painted gold in her honour!
The outstanding equestrian will partner Innuendo III, known as Louie, and when interviewed earlier this week she said, "Being selected for my fifth Games is unbelievable. I hope Tokyo 2020 will inspire others and put disability awareness at the forefront of people's minds again."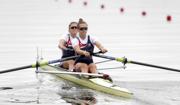 Also travelling the 9611km to Tokyo is Harriet Taylor, who will be representing GB in the Women's Four (W4) rowing squad.
Hattie was first picked to represent Great Britain in 2015 when she won bronze as part of the Women's Eight at the World Rowing U23 Championships. She made her senior GB debut in 2017 in the Women's Four, before winning silver as part of the Eight at the World Rowing Cup I in 2018.
If you would like to know more about these two inspirational women, you can read about them on one of our Alumni Boards throughout our school.