4th Jul 2023
Windsor's MP Adam Afriyie visited Charters on Friday 30 June to discuss the issue of vaping and use of e-cigarettes amongst young people with Deputy Head of Sixth Form, Mr Metson.
Read his report of the visit below:
Adam is a Vice Chair of the All Party Parliamentary Group for Vaping and has declared links with the industry so I wrote to him about my concerns and suggestions to tackle the problem of the increase of 'vaping or e-cigarettes' amongst young people. Over recent years there has been a huge increase in the use of these unregulated and highly addictive products with teachers up and down the country raising concerns about the ease of access, lack of regulation, low cost and cynical marketing of 'vapes' to under 18s. Rather than serving their purpose as a 'smoking cessation product' for adults looking to quit smoking, these sweetly flavoured and brightly coloured products have, in my experience, become a risky and highly attractive product to many young people to 'experiment' in a risky behaviour. Medical research also raises questions about the long and short term impact on children's health and there are clear links between vaping and users undertaking riskier behaviour in terms of cigarettes, alcohol and illegal drugs.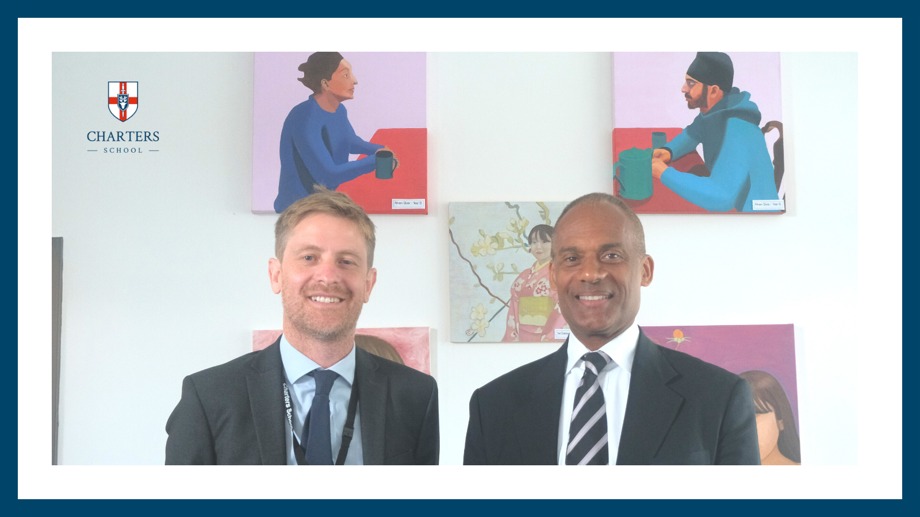 Adam and I had a wide ranging discussion and were in agreement about the importance of tightening up regulation, fining retailers for selling vapes to under 18s and also banning the brightly coloured and sweetly flavoured ranges. I highlighted the negative impact that vapes were having on young people who can become highly addicted in a very short period of time and the damaging impact this can have on their concentration levels and performance in school. Whilst my feeling is that the government should follow the lead of other countries such as Australia which has announced the outright ban on vaping with the exception of supply to pharmacies, Adam takes a different view. However, I am heartened that we were in agreement on a number of issues and he pledged to work within Parliament and through his influence within the vaping industry to make it harder and less attractive for children to access vaping.
Mr Afriyie had not visited Charters since before the pandemic and following his meeting with Mr Metson he was given a tour of the school by Archie and Libby. He said, "I always enjoy visiting Charters School. It achieves some of the best examination results in the constituency and does this even with limited resources."
We would like to thank Mr Afriyie for taking the time to discuss the important issue of vaping and e-cigarettes with Mr Metson. We would also like to remind parents that it is illegal for Vaping and E-cigarette products to be sold to under 18s and that we do not tolerate any of these products on the school site.