26th Apr 2022
After a comprehensive selection process we are pleased to announce the appointment of Alanna, Joseph & Lauren as Head Students. They head up the Sixth Form Leadership Team of 12 students across three committees: Community, Curriculum & Welfare.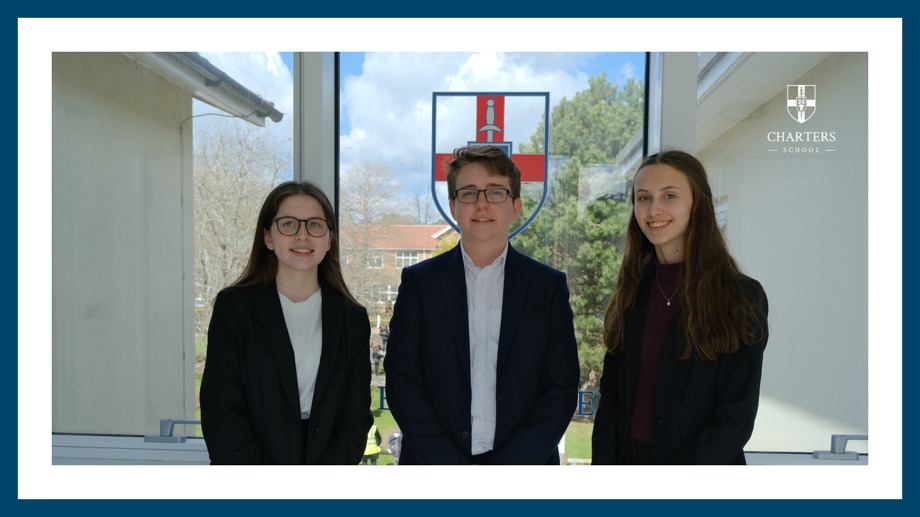 During the interview process the students were asked to prepare a presentation on an inspirational moment or person, and the impact it or they have had on their life.
It was wonderful to hear how inspiration can come from such a wide variety of places and you can read about those who have inspired our new Head Students below.
Joseph
My inspirational person is a photographer, author, and public speaker Kay Rufai. He travelled across the world to photograph and discover African tribes and documented their way of life. His experiences lead him to create a collection called 'T.R.I.B.E' which I visited in London. His message, from his travels, was that all humans are fundamentally the same and rather than viewing people for their differences we should accept that we are all the same. This inspired my passion for History as I wanted to find out about how people throughout history have had an impact on my life and our current society. I found Kay Rufai an inspirational person and lead me to pursue my passion for History into A Level and hopefully further at University.
Alanna
The person I chose to talk about was Bernardine Evaristo. She is a British author and academic and it was one of her most famous works, the 2019 Booker Prize Winner 'Girl, Woman, Other' that particularly inspired me. The book is about struggle, love, joy, and imagination, exploring many themes including, race, gender identity, and sexuality. Although the book follows 12 characters, the stories are all interconnected, creating an immense feeling of togetherness. This is the main aspect of the book that has influenced me most because it highlighted how much of an impact we truly have on each other, inspiring me to do more work with the community around me.
It is not just the book that inspired me but also the person that Evaristo is. Having watched many of her interviews, it is clear that she exudes confidence as she talks so eloquently about such complex matters. More than anything, she has taught me to be an ally to groups that I am not a part of, as she discusses issues relating to various inequalities. Her focus and strength of character are something that make her a true inspiration to me.
Lauren
In my presentation, I spoke about my great-grandfather, Henry who joined the army in 1935. He soon found himself posted to Singapore and there he remained until, in February 1942, it fell unexpectedly to the Japanese. He was imprisoned in Changi jail after the British surrendered. The Japanese could not comprehend the concept of surrender and so regarded the surrendering army as deserving of no respect and proceeded to use them as slave labour.
In April 1942, Henry was one of a thousand prisoners of war packed into the cargo hold of a ship in stifling humidity and transported to Saigon. More than half of the group were ill by the time they arrived. Illness, injury and hunger were commonplace. The following year, Henry was one of the 700 fittest of the surviving prisoners who were transferred to Thailand to work on the Burma Railway. They arrived during the "Speedo" period in 1943 which was the Japanese "big push" to complete the railway. The prisoners were starved, beaten, deprived of medicine and made to work all day in the heat. After one month on the railway 140 of the men who had arrived from Saigon had died. Many of the others were desperately ill, but deemed fit to work if they could stand. Their clothes were in rags and their boots had fallen apart, so they worked barefoot.
When the skeletal prisoners were finally liberated in 1945, they were ordered not to share details of their experiences. Few were offered psychological support or counselling.
I admire him for being able to go through 3 and a half years of horror and yet still be able to adjust back. He managed to live a normal life. As a family, we have often spoken of his experiences, and he is an inspiration to all of us. He is a reminder to me that, no matter what I am going through, it doesn't compare to what he faced.