School Tours
BOOKING OPEN FOR SCHOOL TOURS
We are delighted to be able to offer school tours again for prospective students and parents.
Tours will run fortnightly on Friday mornings.
The next tour will be FRIDAY 13 May at 9 am.
They will start at 9.00 am and be finished by 10.00 am. We encourage you to walk to Charters School, however, if you do need to drive, please park in the detached car park, over the road (do not park in the leisure centre car park as this will be locked later in the morning).
Please arrive at 8.55 am and go directly to the double green gates at the front of the School where you will be greeted in order to sign in for your tour. Two tours will run simultaneously, with up to ten people in each tour. A member of the Senior Leadership Team will welcome you and then our Year 10 Prefects will show you around.
Please do not attend a tour if you or your child have any symptoms of Covid.
Due to demand, we have added some additional tour dates for this academic year. To book onto a tour, please click the button below.
If you required wheelchair access/mobility requirements please contact Gaynor Reid-Smith prior to booking.
There will be an Open Morning for prospective 2023 Year 7 students on Wednesday 5 October 2022. Further information will be posted on the website nearer the time.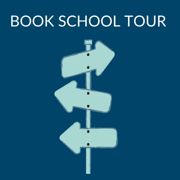 We look forward to welcoming you to Charters School.