19th Nov 2021
HIGHLIGHTS OF THE WEEK
ROBOT FUNDRAISER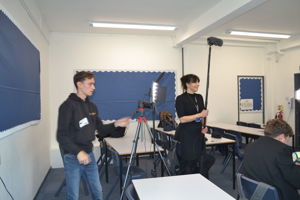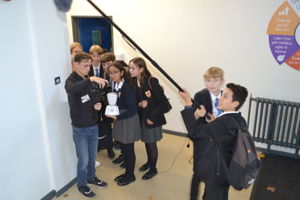 We are very proud to be launching a fundraising campaign today which we feel really embodies our school motto of Unity Respect Excellence.
There are several unseen students at Charters battling long-term medical conditions that prevent them from attending school, and we are raising funds to buy an AV1 Robot so that these children have a chance to be heard and included in day-to-day activities.
With the help of one of our past students, Bayley Prickett, who is now studying Film Studies at university, a wonderful parent and some incredible students, we have created what we hope is a fundraising film that you will want to share with your friends. We hope that the film fills you with a similar feeling to the one you may get when you watch a John Lewis Christmas advert, and that it inspires you to donate to this initiative.
We thank you for taking time to watch our film and sharing it with others.
We are extremely grateful for every donation and thank you for giving the Gift of Friendship this Christmas.

STEEL BAND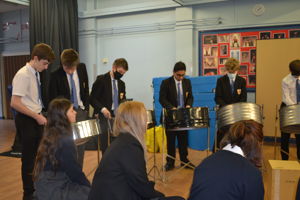 Listening to the steel pans being played by Year 9 as the Caribbean feel was brought to school this week. Unfortunately, it was only the sound of the Caribbean that was brought and not the weather and the clear warm blue water.
YEAR 7 NETBALL
The Year 7 netball squad took part in their tournament this week at a local school. We were able to have four teams which was a fantastic effort, and great to see so many girls representing the school. I am sure they learnt a great deal and have started to gel as a squad and teams.
Worried@
As you may know, we have an email address that students can use if they have any worries about school that they feel initially they can't talk to anyone about. We have sent out our first 'pulse' survey this week asking students views on aspects of school. Once we have collated the results, we will give feedback to you and the students.
ODD SOCK DAY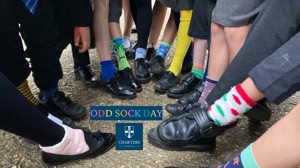 It was wonderful to see so many of our staff and students supporting the Odd Socks Day initiative today. The event brings to a close a week of initiatives in association with The Anti-Bullying Alliance which aims to highlight the impact of bullying and the need for us all to be kind to one another. The isolation of the last year has underlined how little acts of consideration can break down barriers and brighten lives, and this year's theme One Kind Word is something we should all be mindful of every day.
If you know someone who is worried about bullying and would like help, please encourage them to either speak with a member of staff or to email the worried@chartersschool.org.uk email so that support can be arranged.
REDUCING THE SPREAD OF CORONAVIRUS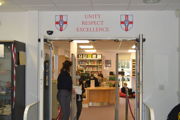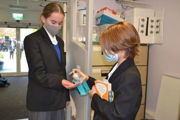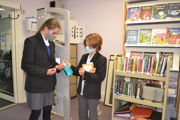 It's wonderful to see how conscientious our students are when they use our school Library. Hand sanitiser is used by all individuals as they enter the Library and masks are a requirement for entry.
STUDENT NEWS
INVESTIN EDUCATION - YOUNG INVESTMENT BANKER INTERNSHIP
Year 11 student Mick had the opportunity to take part in the Young Investment Banker's Internship Scheme. You can read his account of the time spent there below.
The internship with InvestIn was a great experience. Over the course of five days, I was able to learn and explore new fields of the financial world.
Throughout the first four days of the course, we were able to interact with professionals, experts, and experienced members of the financial world who not only taught us what they specialised in, but also helped answer any questions we had, with the help of the other InvestIn employees. There were also plenty of activities we did along the way such as simulating our own portfolio where we could practice buying and selling stocks in different companies, and how media affected it. Furthermore, on the final day of the course they gave us help with how to present ourselves well on paper and in an interview in order to help us get a job, which proved handy recently, when the school conducted a mock interview for my year in which I did well in.
In conclusion, the course itself was excellent, providing a huge amount of information on how to break into the financial world, and excel. I'm grateful for the opportunity.
ART TRIP - TATE MODERN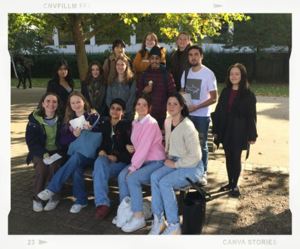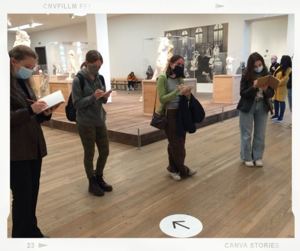 Year 13 student Emily recounts the trip to the Tate Modern for our A Level Art students.
Before half term, the Year 12 and 13 Art students travelled to London to visit 'The Making of Rodin' currently being held at the Tate Modern. We started the morning drawing the city's dramatic skyline along South Bank, treated to the backdrop of a clear blue sky. The exhibition itself displayed some of Rodin's most recognised work, such as 'The Thinker' and casts for the Monument des Bourgeois de Calais.
The exhibition represented his studio, with casts and bronzes of all sizes. The exhibition illustrated his innovative sculptures, thought to be the most dramatic influence to change the face of sculpture. We also had the chance to explore the Tate's permanent collection, home to a range of contemporary, thought-provoking artists. And not forgetting the impressive fleet of giant jelly fish, powered by battery packs and helium that hovered over our heads in the Turbine Hall – more ideas for art and science! A great day.
ALUMNA SUCCESS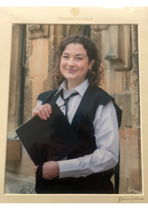 Grace completed her A Levels at Charters in the summer of 2020 and is now studying English literature at Brasenose College, Oxford.
Each year, Oxford University celebrate the academic success of their brightest students by awarding 'Exhibitions'.
Grace has been awarded an Exhibition for performing at a demonstrably first-class level in her first year at the university and is now referred to as an Exhibitioner.
We can't wait to hear what she achieves next!
NOTICES
STUDENTS WAITING FOR BUSES
Earlier this week we contacted students regarding a report from local residents in North Ascot that students from Charters School, whilst congregating and waiting for the school bus in the morning, are not being helpful and clearing the pathway for other pedestrians to pass. We are frequently contacted by members of the public regarding the good things that our students do in the community, but clearly in this instance there are some students that need to be more considerate to the needs of others. It is our view that this is likely to be that there are large numbers of students waiting for the bus which means that there is little space on the path. We also think it is likely that Charters School students are just being unobservant to the needs of others, rather than directly rude. Nevertheless, we would ask that you reinforce our message that students should be mindful of this and when other pedestrians are trying to walk past that they do create space quickly and sensibly. It would also be appreciated if students made sure that their group is small enough not to block the path. Thank you for your support here.
DIARRHOEA AND VOMITING
We are seeing an increase in the number of students who have diarrhoea and/or vomiting. To reduce the spread of this infectious disease, students should not return to school for 48hours after the last episode of either diarrhoea or vomiting.
TEST, DON'T GUESS
For most people, COVID-19 will be a mild illness. However, if you have any of these symptoms, even if your symptoms are mild, stay at home and arrange to have a test.
Test, don't guess, and help keep our community safe.
THIS WEEK'S SPORTS FIXTURES
Please visit our Sports Fixtures page to see next week's activity and for any cancellations.
CUCINA SURVEY
Cucina, our school meal provider is seeking the views of parents and students on their service and menus. If your child purchases food from Cucina or if you have any comments on the service it would be helpful if you could complete this short survey, the survey is anonymous. It is important that parents and students are given the opportunity to provide feedback as this will help improve the service as well as influence new dishes and new menus.
SOCIAL MEDIA

Following us on social media is a great way to find about all the interesting things that are happening across our school.
https://www.instagram.com/charters_school
https://www.facebook.com/ChartersSchoolSunningdale
https://twitter.com/chartersschool
Why not take a look.
INFLUENCER EVENING
Tuesday 30 November 6 - 7 pm
Get more information on opportunities available after Charters.
Link to register: bit.ly/3HfAwsj #Careers pic.twitter.com/UjR0L4icKs
Representatives from Vodafone, Allen & Overy, and BT will speak about their roles and the opportunities available.
THE COMMUNITY CHOIR
IT'S NOT TOO LATE TO JOIN THE COMMUNITY CHOIR for NINE LESSONS AND CAROLS.
The Carol Service will take place at 7.00pm on Monday 13 December, at Holy Trinity, Sunningdale.
If you are still keen to participate in the Community Choir for this event, please contact Mrs Chalmers (j.chalmers@chartersschool.org.uk). There is still lots of space for keen singers. There is no need to be able to read music.
In addition to the congregational carols, the community choir will sing three combined items with the Senior Vocal Group and the Staff Choir.
Rehearsals will be from 6pm to 7.30pm on:
Monday 22 November
Monday 29 November
Wednesday 1 December
Monday 6 December
We look forward to seeing many parents at our next rehearsal.
COMMUNITY
NATIONAL KNIFE CRIME WEEK
This week Thames Valley Police have taken part in the national knife crime week of action Operation Sceptre.
It is important that the police, schools and families work together to protect young people. We would like to encourage parents to be aware of the warning signs and talk to children about carrying weapons. The consequences of being found in possession of a knife are serious and long lasting, affecting education, employment and travel opportunities, but most crucially, life. Some young people carry weapons because they feel it will provide protection or increase the respect they are given by their friends, others carry for 'friends', but the sad fact is that they are more likely to become victims of serious violence.
· Changes in behaviour or becoming withdrawn from family
· Loss of interest in school or external clubs or poor school attendance
· Staying out late or refusing to give information about their whereabouts,
· Change in friendship group and refusing to share information about them,
· Secretive and defensive about contents of their room or bag,
· Change in attitude about knives, talking about self defence
· Items missing from kitchen, tool box or garage