12th Nov 2021
I hope you all managed to enjoy your half term and get some rest. It has been a real pleasure to see the students back in school this week. I would like to thank all of those who are wearing their masks, helping us keep the school as safe as we can. Also, thank you to all the families who are testing twice a week, helping us to keep the community safe as well.
I visited the students at the outward bound centre in Wales this week. It was lovely to see them getting involved in activities. I waved one group off as they paddled away down the canal on a 5k expedition. The second group were at a local climbing wall developing their climbing, bouldering and abseiling skills, while the third group were on a 9K walk through a wet, misty and boggy Welsh hillside. It was lovely to see them so enthusiastic about the experience and embracing the cold and wet weather!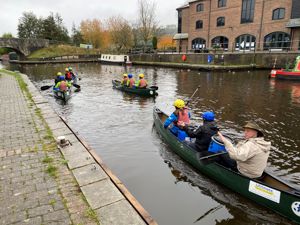 REMEMBRANCE DAY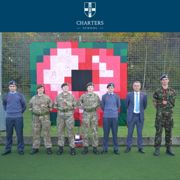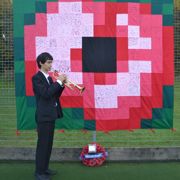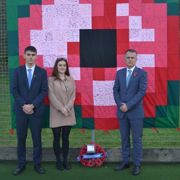 Yesterday was Armistice Day to mark the end of World War One. Sadly since 11 November 1918 British forces have been involved in conflict almost every day. Remembrance is about taking time to reflect on service personnel from all backgrounds who have lost their lives through conflict, those who have been injured as well as their families. There are people from all backgrounds within the British armed forces, both those from the Commonwealth and former Commonwealth nations. We have services families and staff within our school community who have strong connections to the armed forces, so it is essential that we support them by reflecting on the sacrifices they all make. When loved ones are deployed on operations, it is an immense worry.
The School fell silent to mark the day and making time to reflect on the sacrifice of armed service personal and their families is extremely important. Standing in year groups, the whole school community came together in an act of remembrance which was incredibly powerful and moving.
Poems were read by the Head Boy and Girl, before the Last Post was played. Students and staff fell silent for two minutes before the silence was broken by the playing of the Rouse. A wreath of poppies was then laid by two Sixth Form students. As the students returned to lessons, they passed an art installation of a giant poppy, which was created from patchwork squares of material.
After the service, the wreath was moved to the foot of the school's Tree of Remembrance; an English Oak tree that was donated to the school by Hillier Garden Centre to mark the centenary of the Great War in 2018.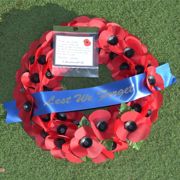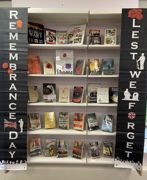 We all must reflect on the work that our armed services do in helping us to remain safe. Ben Reddy, one of our own students who was at the school from 1997 to 2003 was killed in Afghanistan in 2007. As well as the whole school event, we have been reflecting on remembrance with displays in the library and through tutor time.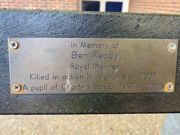 STUDENT NEWS
SCHOOL CHRISTMAS CARD COMPETITION
I am delighted to announce the winner of the School Christmas Card Competition.
The winning Christmas Card design is from:
Nelly 8H Panthers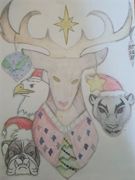 There was a very high standard of entries and I'd like to thank all the students for their excellent submissions.
Runners Up:
Skye – 10G Panthers
Maisy – 7E Bulldogs
Sophia 9B Eagles
Kayla – 9G Panthers
Sabrina 7C - Panthers

NOTICES
TRAFFIC INCIDENT
On Wednesday morning an incident occurred during drop-off. A student got out of the car that was dropping her off on the opposite side of the road to school and not in the designated drop-off area. Without looking the student went behind her car and crossed the road (not at the crossing) and was hit by an oncoming car
Luckily this student was unharmed but others may not be so fortunate. Please can we stress again to all drivers the significance of parking correctly when dropping off your children and for all our students it is paramount to use the zebra crossing.
LEGALLY BLONDE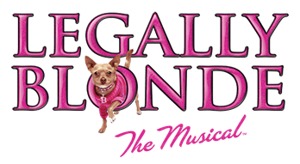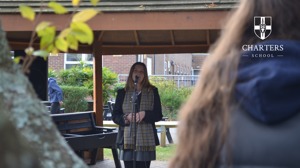 Earlier this week there was an impromptu concert at the bandstand with students performing songs from our production this year - 'Legally Blonde the Musical'.
It is now less than two weeks until our whole school production which is a true celebration of the Creative Arts and highlights the vast amount of talent our students have. The staff and students have given up a huge number of hours over the last nine school weeks to put together this incredible show and can't wait to put it on in front of an audience.
If you have not booked your tickets yet these can be purchased via the link below. There are tickets left for every show but with limited availability on the Friday.
https://www.trybooking.co.uk/BGMC
Performances will be on the following dates:
Wednesday 24 November at 7pm
Thursday 25 November at 7pm
Friday 26 November at 7pm
Saturday 27 November at 2pm
We are looking forward to the school community to coming together to support the students and staff involved in creating this production.
COMMUNITY CHOIR FOR NINE LESSONS AND CAROLS
The Carol Service will take place at 7.00 pm on Monday 13 December at Holy Trinity, Sunningdale.
If you are keen to participate in the Community Choir for this event, please contact Mrs Chalmers (j.chalmers@chartersschool.org.uk).
In addition to the congregational carols, the community choir will sing three combined items with the Senior Vocal Group and the Staff Choir.
Rehearsals will be from 6 pm to 7.30 pm on:
Wednesday 17 November
Monday 22 November
Monday 29 November
Wednesday 1 December
Monday 6 December
Please try to attend at least 4 out of the 5 rehearsals. However, if you are keen to take part and are not able to attend 4 of the 5 rehearsals, please contact Mrs Chalmers.
PARENTS GUIDE TO...NOVEMBER NEWSLETTER
The latest 'Parents Guide to...' newsletter is now available here.
UNIFROG - CAREERS INFORMATION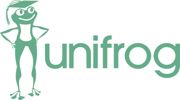 FIVE CAREERS TO TACKLE CLIMATE CHANGE - Make saving the planet your day job! Your journey starts here
NEWMAN UNIVERSITY Monday 6 to Thursday 16 December 6-7 pm

Newman University, Birmingham is hosting this series of virtual information sessions to introduce students to over twenty of its degrees. Each session will give students the chance to ask questions to academic staff. Subjects include:
Criminology
Psychology
Teacher Training
Students can book here: https://www.newman.ac.uk/event/subject-virtual-information-and-qa-sessions/
UNIFROG – WHAT IS SUSTAINABILITY? Sustainability is all over the news at the moment but what is it and why is everyone talking about it?
Join us to learn more about sustainability, rewilding and what steps you can take to help save the planet.
When: Tuesday 7 December at 5 pm
Duration: 45 mins
How to join: https://www.unifrog.org/student/webinars/upcoming/362-what-is-sustainability
GET INTO SOCIAL CARE WITH THE NHS Thurs 25 November 6pm – 7pm
Have you ever thought about a career in Social Care? This event will showcase careers available in this sector of the NHS! Join us to hear from Senior Managers and Entry level Employees in the Social Care Sector! Come along with any questions you may have relating to Social Care and we will be sure to answer them!
Link to register: https://pathwayctm.com/event/get-into-social-care-with-the-nhs/
COMMUNITY
OCEAN THEATRE COMPANY PRODUCTION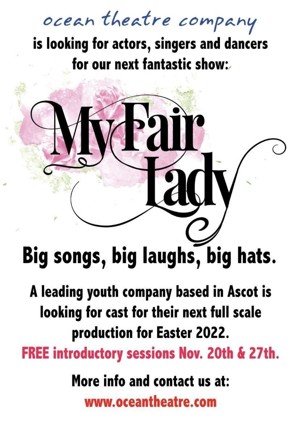 Ocean Theatre Company offers 14 to 20 year olds the opportunity to perform in high quality, hit musicals and develop performance and personal skills in a safe, friendly and highly-creative environment. We aim to help young people of all abilities from a variety of backgrounds to develop their artistic, personal and social skills. It is a nurturing, educational and fun environment. And we succeed.

All the creative and technical staff are working professionals in the arts industry and although the cast are teenagers we treat them, and the shows, like professional actors and productions.
There is no audition to join the company, just sign up and have fun. We then hold auditions for the roles in week 3 (Dec 4).
We meet from 1 pm - 5:30 pm each Saturday in Ascot and begin with two free introductory sessions on November 20 and 27 then every Saturday (in term time).

Our website has a lot of additional information including a fantastic gallery of our past productions to show the quality and fun we achieve: www.oceantheatre.com

In addition, Ocean is an excellent training ground for any students wishing to pursue a career in the performing arts. In the last few years we've had many members leave us to go to prestigious drama schools such as GSA, ArtsEd, Bird College, Chichester Conservatoire, Rose Bruford College, Trinity Laban, Drama Studio London and Mountview - to name a few.
SANTA FUN RUN ON BEHALF OF ALZHEIMER'S DEMENTIA SUPPORT (ADS)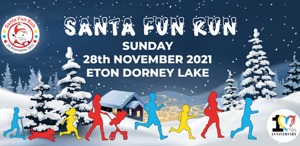 'ADS' Santa Fun is an annual event 'Run for Fun in a Santa Suit' to raise money for Alzheimers Dementia Support 'ADS' Charity. It's a 5k Run or walk / wheel / jog (approx 3.1 miles) once around Dorney Lake on Sunday 28 November. If you or your family are interested in participating and would like further information please visit their website page: https://www.adscharity.com/santa-fun-run-2/ and the registrations are opened here: http://2021santafunrun.eventbrite.com/.
ALEXANDER DEVINE CHILDREN'S HOSPICE SANTA DASH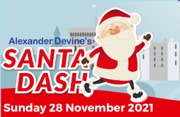 The Alexander Devine Santa Dash novelty 5km fun run, made accessible for all, which is held through the centre of Windsor will take place on Sunday 28 November. Dashers can complete the 5km distance however they like, whether they run it, walk it, jog it, dance it and this year, even join the fun from home or in a place of their own choosing! Entry includes a free Santa suit or reindeer antlers, a souvenir medal, and refreshments. Please click here for further details.