24th Sep 2021
HIGHLIGHT OF THE WEEK
I was delighted to be in a Year 11 lesson this week in the Science department where they were developing their skills of data recording and analysis by investigating the reaction rate of zinc at different temperatures. The group were developing the skills that will not only help them in their Combined Science exams in the summer but also help them with the generic skill of being able to explain connections and identify anomalies. They were demonstrating the idea of Challenge and Explanation as part of the Charters 7.
Starting this week, we have been running tours for Year 6 students and their families who are thinking about coming to Charters School. It has been a real pleasure to be able to show them around the school and for them to see the school in its daily operation and the feedback we have had from the families has been extremely positive.
NEW SIXTH FORM STUDENTS
This morning I joined a meeting of the new students with Mr Metson, Head of Year 12 and Mrs Hill, Head of Sixth Form. The breakfast meeting was to see how they were settling into life at Charters Sixth Form. The group was very positive about the way they had been made welcomed by their fellow Sixth Formers and the way they had been supported by staff. Some of the quotes from them are worth sharing:

"Being able to choose from the different study spaces, silent and grouped is great"
"Everyone is so welcoming. It's a friendly place."
"The food is much better than my old school."
"I am enjoying the enrichment programme."

It was a real pleasure to meet with them.
REMOTE LEARNING – NON-COVID RELATED ILLNESS
Whilst the school continues to offer the opportunity for students to access remote learning following a positive diagnosis of Covid-19, please can we remind parents that where your child may be absent from school for other illnesses, staff are not able to provide remote learning. On returning to school we would encourage your child to make contact with their teachers and ask for any work they are required to catch up on.
FIRE DRILL
As part of our health and safety systems we ran a whole school fire drill today. I am pleased to say that the students were fantastic and we evacuated the buildings and had their registers taken within our 10 minute target time. Although these drills do have an impact on learning for that period, they are vital to ensure that all know the expectations if we do have to evacuate the building in the event of an emergency.
INFORMATION EVENINGS
Year 10 and Year 12 had their Information Evenings this week and the link to the zoom recordings of them can be found below.
Year 7 also had their Information Evening and thank you to all parents/carers who attended. We hope you found it informative and helpful in understanding the curriculum your sons/daughters will be following this year.
Presentations from all of the Information Evenings can be found on the Supporting Your Child's Learning page.
SIXTH FORM ENRICHMENT PROGRAMME
The enrichment programme for Sixth Form is up and running with students actively participating in a wide variety of activities. From horticulture to cryptography, netball to table tennis, community drama to EPQ there is something for everyone. We are particularly pleased to see the students driving the agenda through the amnesty group as well as setting up their own enrichment groups such as the school newspaper and a documentary club.
NEW MINIBUSES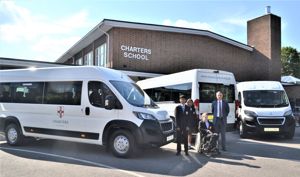 This week we took delivery of three brand new minibuses to replace our aging fleet. The new vehicles are being leased as a result of the generosity of parents who participate in the school's regular giving programme.
The Children with Special Needs Foundation kindly donated £2100 towards leasing a vehicle with wheelchair access and ePartners also donated £1000 towards the initiative.
The new buses will enable us to continue to develop our extra-curricular and super curricula programmes. Not only will we be able to continue our extensive fixtures programme, we will also be able to increase the number of students who have access to local universities, work experience, theatre visits, school visits and competitions around STEM.
Thank you to all the parents who have contributed to the new buses which will have a lasting impact across the school community.
We understand that not every family is able to contribute, but the impact of a large number of small donations can be transformative. If you are able to support this initiative the easiest way to donate is by using this link which will take you directly to our CAF Donate page.
If you are a UK taxpayer, please tick the Gift Aid box. This will allow us to claim an additional 25p for each £1 donated and won't cost you anything extra; in fact, higher and additional rate taxpayers can claim a tax reduction on their donation.
All donations make a difference and have a lasting impact across the school community.

STUDENT NEWS
ADAM PEATY EVENT - HYDROLIFE SWIM SPA AT LONGACRES GARDEN CENTRE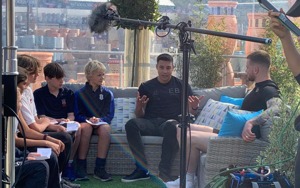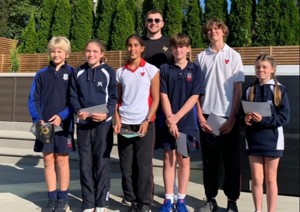 Finn and Alex in Year 7 had a fantastic experience taking part in a coaching session from Olympian Adam Peaty. They also had a Q&A opportunity with British record holder Ed Baxter at Hydrolife Swim Spa at Longacres Garden Centre.
It was a fantastic day and one they will never forget.
UK PARLIAMENT WORKSHOP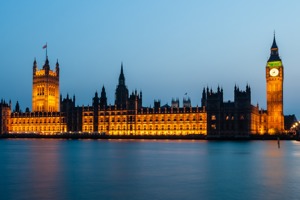 On Monday the Student Leadership Team were given the opportunity to participate in a virtual UK Parliament Workshop as part of UK Parliament Week and students Emily, Ciera and Kaya took part. The workshop included a number of interesting tasks, such as the chance to debate current and pressing issues. We chose the question of abolishing university tuition fees. We were able to present our opinions on this, and talk about the process of potentially realising this policy with parliamentary experts. A fascinating presentation by the Parliamentary Education team clearly explained to us the procedures which must be follow for a bill to pass into Law. This encouraged us to ask questions and explore further the intricacies of law-making.
After this activity, we were able to virtually meet and converse with our local MP, Adam Afriyie. This was a great opportunity for us to gain a better understanding of what the lives of our MPs are like, and what it is they are most passionate about. When asked about his role as an MP we gained invaluable insight into the responsibility which it demands, and what this means for Adam Afriyie's day-to-day life. We were even able to learn about what it's like to work alongside the Prime minister, and the inner-workings of being in the party in power. Furthermore, we were able to ask him about his passions in politics, and what drove him to become an MP. From this he spoke to us about how his upbringing and interests informed his political perspective and role. It was a very enjoyable experience for us all and we learnt a lot from it.
DRESSAGE COMPETITION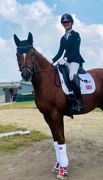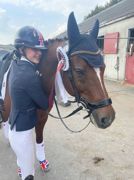 Year 9 student Demi, has a fantastic time last week at her first International competition abroad. Demi took part in the Waregem CDI3* International Competition in Belgium and it was a real learning experience for her to compete on the continent against some superb competitors.
Demi and Fin, her pony, had two top three placings and a fifth placing on the final day in the Music Freestyle discipline This completely surpassed all of her expectations and she got three personal best scores!
Demi has subsequently had an email from the British Dressage Performance Manager fto advise that following her successes at the competition she has now been invited onto the European Pathway Squad for 2022. Demi is delighted and couldn't have asked for a better outcome!
We wish her every success for the future.
NOTICES
DROP OFF BEFORE SCHOOL, SAFTY AND CONSIDERATE PARKING
Parents/Carers should not be dropping off in the car park area as this is the school bus drop off area. There are many students in this area in the morning and any parent dropping off a student should use the drop off bay next to the netball courts. Parents who use the car park are creating a considerable health and safety issue for our students as they leave the school buses. Can we also ask that parents are respectful of the staff on duty who are there to ensure that the children are kept safe during this very busy period of the school day. While the weather is good, we would encourage as many students as possible to walk into school if they can, this can be be straight from home or being dropped off 10 mins away. This will also help us reduce congestions in the local area during this peak period.
Please can we also remind students of the importance of being aware of their surroundings when walking to and from school. An accident was narrowly avoided this week when a student stepped into the road because they were concentrating on their phone rather than crossing carefully.
We all need to be considerate of our local community neighbours when parking around the school site on residential roads. Vehicles should not be parked dangerously or block driveways.
Thank you for your support.
DELIVERIES FOR STUDENTS
We regret that we are not able to accept deliveries for students.
Please remind your student to check their timetable the night before and to pack their bags accordingly, working with them to develop their independence and organisation.
If a student forgets their packed lunch we ask parents to top up their lunch money on ParentPay with an emergency amount to enable them to purchase food from the Dining Hall.
Parents can set low balance alerts within ParentPay so your child need never run out of funds on their dinner money account. You can do this from within your ParentPay account>communication>alert settings>balance alerts
SCHOOL PHOTOGRAPHS
Next week, students will be given proof cards showing the images that were taken when the school photographer visited the school.
Please use the unique code within your proof to look at the range of items available to buy – it's not just the old-fashioned school photo packs of old!
As well as making great Christmas gifts for family members, the school also receives a percentage from the sales towards school funds.
VACANCIES
We currently have some temporary Associate Staff vacancies that may be of interest to you, such as the Graduate Teaching Assistant or Caretaker posts. Please visit the Vacancies page for details of all our current opportunities.
COMMUNITY
STEM AND MEDICINE CAREER EXPERIENCES THIS TERM

Ages 12-18 At UCL and around the UK
This term, INVESTIN are offering students aged 12-18 immersive weekend experiences in 13 different STEM and Medicine-related careers. Learn from top doctors, engineers, psychologists, investment bankers and more. Students can attend in-person at UCL or online. Other options include the Universities of Bristol, Birmingham, Manchester and Edinburgh.

They expect to be fully-booked for many of these programmes by 30 September. Students can click here to view information on various careers with full details and how to register.



FIREWORKS
Life is slowly getting back to normal and we are so pleased that the annual firework spectacular at Ascot Racecourse will be once again be taking place on Saturday 30 October.
Charters School is one of the organisations that will benefit from tickets sales. If you are planning to attend, please use this link to save £3 on the gate price and generate a free 15% donation to Charters School by using the reference CHARSCHOOL.
Last time this event took place our school received over £500 in commission, so please don't forget to use our reference. For further information, please click here.
USEFUL LINKS