Personal Development Newsletter
We believe that Personal Development forms an integral part of our curriculum and that individuals who can work as part of a group or team and support others to develop ideas and understanding, will excel in whatever they do.
By creating a termly newsletter, we aim to showcase the facets of our Personal Development programme and explain how this subject forms an integral part of life at Charters School. We include the termly Personal Development lesson topics, assembly themes and relevant news articles to enable you to carry on the conversation with your child at home.
We would welcome your feedback on this newsletter or any highlighted initiatives: personaldevelopment@chartersschool.org.uk
Please click on the image below to view:
SUMMER EDITION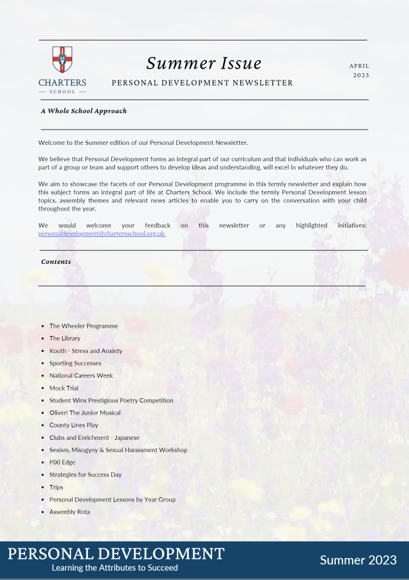 SPRING EDITION