STATEMENT OF INTENT FOR PHYSICAL EDUCATION
At Charters School, through Physical Education, students will be inspired to be active, healthy and deeply enthused by physical activity. Students will develop a love of learning in PE in an environment where they are supported to develop physically and intellectually, and can perform in a range of challenging situations. Students will be able challenge themselves as part of a team and individually.
In PE, students will develop their knowledge about the positive effects of exercise on their physical, social and mental health, and develop a passion and life-long commitment for exercise.
Students will also develop practical skills across a range of activities, as well as improving personal skills which will enable them to perform in a range of situations, including those that can involve working together in a competitive environment.
Students will experience a wide range of sporting activities that are underpinned by a broad, but increasingly complex, set of skills and abilities. It is our commitment to provide an environment that encourages a desire to participate in a range of activities or their chosen specialist sport / sports into adult life.
SUMMARY OF CURRICULUM FOR A LEVEL PE
A Level Physical Education is the study of human movement, performance and behaviour in relation to sport and P.E. It takes a multi-disciplinary approach encouraging the development of a range of methods. The course aims to provide greater knowledge, insight and understanding of human performances.
A-Level PE follows the OCR syllabus. The A-Level requires that over 2 years students study and are assessed in 4 different components; Physiological factors affecting performance, Psychological factors affecting performance, socio-cultural issues in physical activity and sport and Performance in physical education.
The course requires students to:
develop theoretical knowledge and understanding of the factors that underpin physical activity and sport and use this knowledge to improve performance
understand how physiological and psychological states affect performance
understand the key socio-cultural factors that influence people's involvement in physical
activity and sport
understand the role of technology in physical activity and sport
refine their ability to perform effectively in physical activity and sport by developing skills
and techniques and selecting and using tactics, strategies and/or compositional ideas
develop their ability to analyse and evaluate to improve performance
understand the contribution which physical activity makes to health and fitness
improve as effective and independent learners and as critical and reflective thinkers with curious and enquiring minds.
COURSE DETAILS
Component 1: Physiological Factors Affecting Performance (30% of total A-Level)
Anatomy & Physiology – The structure and function of the human body
Exercise Physiology – The study into what happens to your body during physical exercise
Biomechanics – Focus on the mechanics of movement. It involves the study of force and its effect on human movement in physical activities and sports
Component 2: Psychological Factors Affecting Performance (20% of total A-Level)
Skill Acquisition – Focus on what the coach/teacher does to help people learn new skills and keep current skills at a high level
Sport Psychology – Ways in which the coach/teacher can help a sportsperson's mind-set before, during and after performance
Component 3: Socio-cultural issues in physical activity and sport (20% of total A-Level)
Sport & Society – learners will develop their knowledge and understanding of how physical activity and sport have developed through time and the factors that shape contemporary sport
Contemporary issues in physical activity and sport – learners will develop their knowledge and understanding in; Ethics & Deviance in sport, the positive and negative impacts of commercialisation & media in sport, the important and developing influences of modern technology in sport and finally the routes to sporting excellence in the UK
Component 4: Performance in Physical Education (30% of total A-Level)
Performance or coaching – learners are required to demonstrate effective performance, the use of tactics or techniques and the ability to observe the rules and conventions under applied conditions
Evaluation and Analysis of Performance for Improvement (EAPI) – learners will observe a live or recorded performance by a peer in their own assessed performance activity or another activity from the approved list. Through observation, learners will provide an oral response analysing and critically evaluating the performance.
KEY STAGE 5 ENTRY REQUIREMENTS FOR A LEVEL PE
GCSE grade 6 in PE or Dance.
Or
Distinction (Level 2) in BTEC Sport.
GCSE grade 5 in Science.
GCSE grade 5 in English Language or Literature.

The Head of Department may decide to accept students who have a grade 5 in PE depending on their proximity to the grade boundary
EXAM BOARD: OCR
BE INSPIRED
Take a look around the links below to find our where this exciting subject could lead.
Complementary Subjects
This course will prepare learners for the further study of PE or sports science courses. Other complimentary subject to take alongside PE are psychology, business, sociology, geography and biology.
Future Opportunities
Learners will develop the transferable skills in PE which allows for many future opportunities in industry as well as University courses. PE is the perfect prerequisite for the following University courses:
Sport Science
Sports Management
Healthcare
Exercise & Health
Strength & Conditioning
Nutrition
Sports Rehab
Physiotherapy
Medicine
Sport Psychology
PE will provide learners with the prerequisites to the following jobs:
Sports coaching
PE Teacher
Physiotherapy
Gym Manager
Personal Trainer
Sport Psychologist
Lecturer
Sports Management
Working for a NGB of a particular sport
Sporting Events
Be Inspired by Exploring Further
MAGAZINE
A great resource to help supplement knowledge & understanding in A-Level PE.
FILMS AND DOCUMENTARIES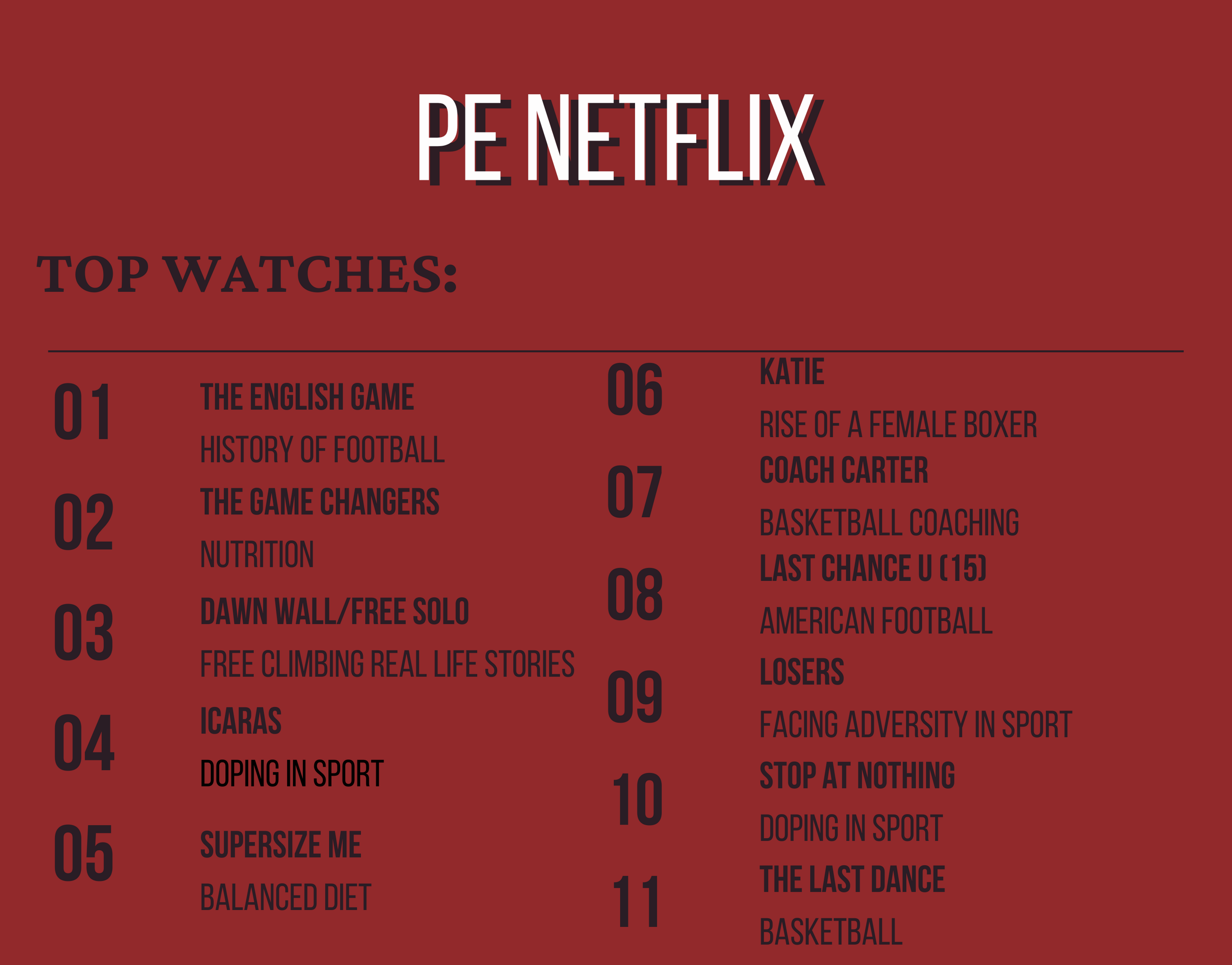 BOOKS
Survival of the Fittest: understanding peak physical performance by Mike Stroud
This book sets out the genetics , exercise, diet and science that allows humans to perform at their peak.
The Sports Gene : Talent , Practice and the Truth About Success by David Epstein
Provides a powerful and convincing analysis of how genes influence all our lives, especially the careers of elite sportsmen.
Bounce: The Myth of Talent and the Power of Practice by Matthew Syed.
Essential reading for an astounding summer of sport; If you've ever wondered what makes a champion, Bounce has the answer.