17th Sep 2021
HIGHLIGHTS OF THE WEEK
We have seen extracurricular return with a vengeance across the school. Students using the Library, prepping for the whole school musical and taking part in PE ECAs just in this week alone. The first sporting fixtures have been completed, with the Year 11 Girls' Netball team winning all their matches in their first fixture of the season. Very well done in indeed. We are looking forward to more fixtures across a variety of sports over the coming year.
We have been able to return to our normal procedures around learning walks. We are getting students used to articulating what they are learning and when staff enter lessons, we ask students what learning they have been doing. You can support this as well by asking individuals at home as part of the normal conversation you have about the school, what they know from their lessons .
INFORMATION EVENINGS
We have been running Information Evenings for each year group at the start of term. Please find the links below to the meetings that have already taken place – please note that due to technical problems the Year 8 meeting is not available so the PowerPoint that was presented is linked instead. Once the other evenings have taken place, we will provide links for those also.
COVID VACCINATIONS
You would have heard that the Government recommends that children aged 12 to 15 be offered one Pfizer covid vaccination. These will be facilitated through schools. Charters have been allocated Friday 22 October as the day the immunisation Team will be in school to give the vaccine to the individuals who wish to have it. As a school, we cannot offer advice on whether your son or daughter should have the vaccination. Please consult with your GP or online NHS services to make an informed decision for your family.
Once we receive information from the immunisation, we will pass this on to you.
HELLO YELLOW FRIDAY - 8 OCTOBER


We will be marking the YoungMinds Hello Yellow Day as part of the YoungMinds charity's efforts to raise awareness of mental health support for young people. More information will follow regarding how we would like students to show their support for this very worthwhile cause.
CAR PARKS
Please remember the car park at the Devenish Road entrance (Leisure Centre Car Park) closes each day at 8.45 am and does not reopen until 2.30 pm. This car park is for drop off only with all car parking spaces allocated to a member of staff. If you have an appointment at School please use the car park at the front of the school.
UNIFROG PARENT/CARER ACCESS
We have now set up parent/carer access to our new careers platform Unifrog. Thank you to all the parents/carers who have also logged on to the platform. It is a fantastic resource for you to support your sons/daughters career aspirations as well as develop skills that will help them across a variety of subject areas. If you have not yet logged in, please keep an eye on your email for details of how to sign up!
In keeping with our commitment to provide Charters students with outstanding careers guidance and tailored support when choosing their next step after school, we will now be using Unifrog; an award-winning, online careers platform.
Unifrog brings into one place every undergraduate university course, apprenticeship, and college course in the UK, as well as other opportunities, such as School Leaver Programmes, MOOCs and every college at Oxford and Cambridge. This make it easy for students to compare and choose the best university courses, apprenticeships or further education courses for them. They can also explore exciting opportunities further afield by looking at English taught undergraduate programmes available in Europe and the USA.
SIXTH FORM OPEN EVENING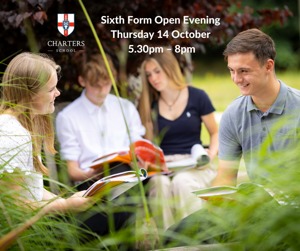 If you know someone who plans to begin their A Level studies in September 2022, tell them about our Sixth Form Open Evening which takes place on Thursday 14 October between 5.30 pm and 8.00 pm.
Look around our dedicated Sixth Form facilities and hear from current students and our inspiring subject specialist teachers.
There will be an introductory presentation by myself and Mrs Hill, Head of Sixth Form, at 6.00 pm in the Main Hall.
The presentation will be repeated at 6.45 pm.
The evening will give you the opportunity to find out about the various Key Stage 5 courses we have on offer for September 2022 and staff will be able to answer any post 16 education queries you have and provide you with detailed course descriptions.
Applications for admission to the Sixth Form will then be available online from Friday 15 October 2021
Find out more about our Sixth Form here.

SUPPORTING YOUR CHILD
Across the year we will be delivering 20–30-minute free online sessions to support you during your child's time with us at Charters. The presentations have been created based on parental feedback and will cover a range of topics including revision, organisation, mental health, dyslexia and autism. Please see our list of sessions on the school website here. Book onto any session up to up to 48 hours before to receive a secure Zoom link.
OFFICIAL CHARTERS' FACEBOOK PAGE
Charters School now has an official Facebook page to help keep the wider community updated on all things Charters-related. View this link to see what we've been up to this week. Follow us, tell your friends and let's help build the Charters Community.
CHARTERS PE TWITTER- @PeCharters
For information regarding PE clubs and fixtures follow the Charters PE Twitter page. All PE Extra-Curricular activities, club cancellations fixtures for the following week and results of fixtures are detailed on the Charters Twitter page.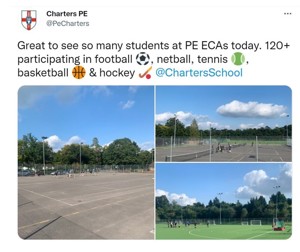 Sport England - Behaviour and attitudes survey towards physical activity
SPORT ENGLAND - BEHAVIOUR AND ATTITUDES TOWARDS PHYSICAL ACTIVITY SURVEY
This academic year at Charters we are partnered with Sport England and Sheffield Hallam University in undertaking research to evaluate the effectiveness of a new initiative to improve students' experience of PE and physical activity, that is currently being offered to all secondary schools in England.
The research project requires students to complete a short online survey that asks their opinion of the Physical Education (PE), physical activity and sport opportunities available to them at school.
The survey will be sent to all students via email on Monday 20 September. We would like as many students to complete as possible. A brief introduction is included below, and the information sheet provided by Sport England and Sheffield Hallam University can be found here.
In this survey we would like students to tell us what they think about physical activity, school sport and PE. We want to know what activities students do,how important it is to them and the difference it makes to them.
Thanks in advance for all your help.
Charters PE Department
BULK EMAILS TO PARENTS/CARERS
Some parents/carers have been in contact to let us know that they no longer receive our bulk emails directly into their main inbox.
If this applies to you, or to someone you know, please follow the guidance on our Letters Home page to add our email address to your safe senders list.
ALUMNI NEWS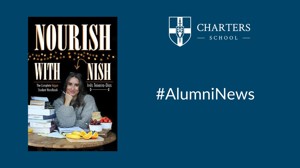 We are so pleased to hear that one of our alumna has recently published a recipe book. Inês Teixeira-Dias who left Charters in 2019 to read Psychology at Swansea University, has written a recipe book and student handbook all in one. It's packed with over 65 delicious vegan recipes as well as a detailed guide on how to go vegan, student life tips on time management, studying and even how to do laundry!
COMMUNITY NEWS
THE MARIE COLLINS FOUNDATION (MCF) WORKSHOPS
The Marie Collins Foundation (MCF) is dedicated to supporting victims of online child sexual abuse and exploitation. They are offering free workshops regarding Online Harm and further information can be found here.
BIKE TO SCHOOL WEEK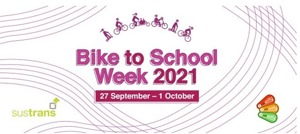 Bike to School Week to take place between 27 September and 1 October 2021.
Bike to School Week is a week-long programme of activities designed to encourage more children and their families to cycle or scoot to school.
Cycling and scooting are healthy, active alternatives to travelling by car.
Children who cycle to school arrive more relaxed, alert and ready to start the day. And fewer car journeys means less congestion, less air pollution and less parking issues around the school gate.
For more information, please click here.
THE MAIDENHEAD LIONS' DUCK DERBY
The Maidenhead Lions have rearranged their annual Duck Derby which takes place on Ray Mill Island on the Thames below Boulter's lock on Sunday 19 September from 1 - 4.30 pm. This popular event starts at 1.00 pm with a wide variety of stalls and local organisations offering goods for sale and games of chance. Activities will include Bouncy Castle; Face Painting; Moo Music; Story telling for children and the Lions ever popular fun train giving rides around the island. Maidenhead Drama Guild will also be presenting some cast members from their 'Treasure Island' Christmas panto to be held in Holyport Memorial Hall in December. The Duck Race will be started by the Mayor of Windsor & Maidenhead Cllr. John Story at 4.00 pm. The Sea Cadets will release the ducks which can be seen drifting down the Thames. Tickets for the duck race will be on sale on the day at 1 each with cash prizes.
The Lions Club of Maidenhead raises money for local charities and the local community.