10th Sep 2021
HIGHLIGHT OF THE WEEK
This has to be seeing everyone back in school. It was marvellous to see and hear students out during second break this week as a whole school community. They have their areas where they can play ball games, but they can talk to students in different year groups if they wish. In addition to this, it was fantastic to see them all in their classes focused on their learning and the development of new skills.
Two of our students in Year 10 reacted quickly and calmly when they found a member of staff who needed medical support. Their actions by remaining calm and following first aid principles meant that the staff member quickly received the help they needed. I am pleased to say that the staff member is doing well and will be back in school soon.

COURSE CONTENT
Information regarding the course content and skill development for each year group in each subject can be found here. More individual detailed subject information can be found here
Information regarding personal development lessons can be found here
We have changed our Home Learning Policy this year after feedback from parents and older students. This is a graduated approach to help students settle in when in Year 7 but also build their understanding on workload as they move to Year 10 and beyond.

SIXTH FORM OPEN EVENING FOR ENTRY IN SEPT 2022
Our Sixth Form Opening Evening for students looking to join Year 12 in September 2022 will be on Thursday 14 October starting at 6.00 pm and finishing at 8.00 pm. There will be two presentations, one at 6.00 pm and one at 6.45 pm. Parents, carers and students will be able to discuss subjects with both staff and current students. More information will follow closer to the time.

POTENTIAL VACCINATIONS TO BE HELD IN SCHOOL FOR COVID
As you will be aware, any vaccination programme in schools is arranged by the Health Authorities as opposed to the school. They manage the consent and administration of the actual vaccines. Regarding vaccinations relating to COVID 19, decisions concerning these are made by the Government and their Health Advisors. We are not aware that any decision has been taken to arrange compulsory vaccinations in schools, and the school has not promoted or encouraged the same. Therefore, we suggest that your concerns about this are directed to the Department for Education or Public Health England.

TRIPS AND VISITS 2021 - 2023
As we can now run enrichment activities, we have published on the school website a list of the trips we will be running over the next two years. This will give you an idea of potential costs, timings, and links to enrichment and curriculum areas, helping you to plan for the trips you wish for your sons/daughters to attend. Visits are an excellent way of developing broader skills, knowledge and experiences to help with individual personal development.
EXTRA-CURRICULAR ACTIVITIES
There is a wide range of extra-curricular activities that run after school and during the second break. Please do encourage your son/daughter to participate in activities as this is a great way to make new friends and focus on an area of real enjoyment.
Please visit our ECA page of the website where you can explore the exciting general, music and sports ECAs that are on offer.
LIBRARY


The school Library is back and already proving to be very popular, with a phenomenal 174 loans taken out by students since the start of term. Induction sessions are being offered to students in Years 7 to 9 to highlight the wide variety of books available . All were made possible through the willing participation of students logging loans at the Library desk.
Opening times can be found here

NEW HOUSES

We are excited to launch our new houses, Bulldogs, Eagles and Panthers.
We are looking forward to welcoming all students to their new house in assemblies next week and starting the house competitions for staff and students. This year promises to be an action packed year of competitions and house charity events. Which house will be victorious in July 2022.

ADAM PEATY EVENT - WEDNESDAY 22 SEPTEMBER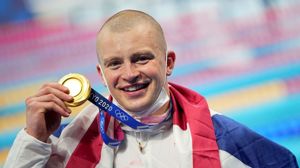 We are extremely fortunate to have been offered the following opportunity:
Two students will be chosen from Year 7 and 8 to have a swimming experience with Adam Peaty double Olympic Breaststroke Gold medallist.

The lesson will be breaststroke, so it is important that students are either breaststroke swimmers or very competent in swimming breaststroke.

Students need to be club swimmers (e.g Bracknell swim club) and competing regularly in club and inter-club competitions.

Students will need to submit a time in their chosen event.

The day will involve filming and taking photos throughout the day so those involved will need to be comfortable with being filmed and we will be creating a consent form for students' parents/carers to sign.

The lessons are currently scheduled to take place between 9.30 am and 11.00 am.

Parents/carers are encouraged to come along to watch and refreshments will be provided.
To have the chance to be selected, please complete this form:

Deadline for submitting the completed form is Tuesday 14 September 4 pm.

SCHOOL PHOTOGRAPHER
This week our students were photographed by the school's photographer, Stanley Baker Studios.
In order to view the photos, each student was given a form containing a QR code which parents/carers can use to register their details. Once registered, Stanley Baker Studios will then email instructions on how to purchase the photos.
If the QR code is mislaid, please contact the company directly via this link: https://www.photoordering.co.uk/start/
We hope that the images produced will make wonderful Christmas presents for friends and family.

JOIN US ON LINKEDIN
Our School LinkedIn account is: https://www.linkedin.com/company/3844794/
We will use linkedIn over the school year to share information, ideas and post opportunities we have at school so if you have an account please do follow us.
We also have an Alumni account: https://www.linkedin.com/groups/4853802/

STUDENT EVENTS
YEAR 13 HAMLET TRIP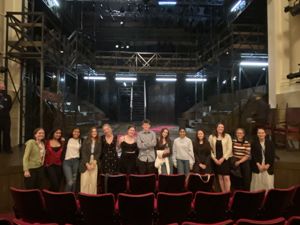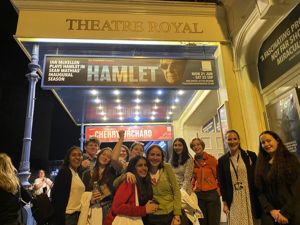 The Year 13 English Literature A-Level class were really fortunate to be able to see Hamlet at the Theatre Royal in Windsor on Friday 3 September (the first enrichment activity of the school year!).
Sir Ian McKellen was in the starring role and it was a wonderful opportunity for the class to see the play performed by such a consummate thespian. It was McKellen's 65th consecutive performance of the play this season and was a real tour-de-force.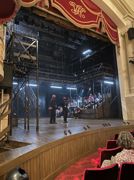 One of the assessment objectives for English Literature A-Level demands that candidates are able to discuss directorial interpretations and to comment on the critical reception of literary works over time. It was therefore not only a great piece of theatrical entertainment but also integral to their knowledge of the play. It is incredibly exciting for these students to be part of the critical reception themselves.
All agreed that it was a superb experience and it led to some very insightful discussions during our first lesson back on Monday morning!
ENGLISH PRAISE POSTCARD COMPETITION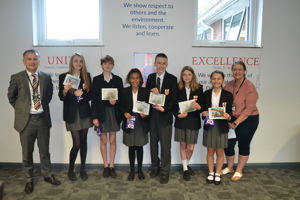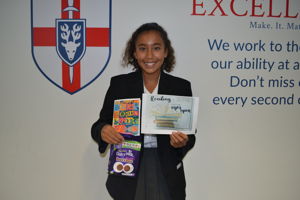 Last term, students in Years 7 to 9 were asked to create the new design for the English Department's praise postcard competition. There were many excellent entries which were sent out to staff to vote on. The top six entries went to Holly now in Year 8, Michaela, Miranda and Sonali in Year 9 and Jason and Maddison in Year 10. Sonali's entry was named the winner and will be used on the English department praise postcards. They each received a chocolate treat from the English department and a book token also went to the winner.
COMMUNITY
S.A.F.E PROJECT
A number of partners from across the Royal Borough of Windsor and Maidenhead, including Thames Valley Police, RBWM, Achieving for Children and the DASH charity, have come together to deliver a RBWM-wide Youth Engagement Project.
This project has been named 'The S.A.F.E Youth Project', which stands for…
S – Make unSafe places safe

A – Advice, from young people to the police and vice versa

F – Facilitate and inForm and Feedback

E – Engagement
…and has been set up in order to:
Engage young people, predominantly between the age of 11-24 years across RBWM

Seek feedback on what the police and partners are doing well, and not so well and to capture the young person's voice

Identify what young people are concerned about and how they feel about their community

Inform the work of the CSP / CSP Sub-Groups and broader partnerships across RBWM

Facilitate and inform future work with young people
The first task for the S.A.F.E Project is to gather the voices of young people living within the borough. This involves a series of questions which have been designed by young people. The questions can be completed by the young person or with their parents/carers. The link to the questions can be found here: https://forms.gle/LzE9SeuXQ1aYnhny7
Following this, a detailed report will be produced, outlining all of the tasks and workshops set up by the project and summarise the view of young people across RBWM. This will then be used to better inform all of our work moving forward.
We very much hope you will support this project, and help us to gather a broad and diverse array of views and opinions of young people.
The survey does not require the young person to provide their personal details. However, if they wish to do so and are happy to be contacted in the future, they will be entered into a draw to win Amazon vouchers.
Survey Link - https://forms.gle/LzE9SeuXQ1aYnhny7
Thank you in advance for your support.
The S.A.F.E Youth Project