20th Jul 2021
WELCOME TO OUR NEW WEBSITE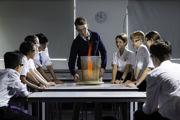 If the past year and a half has taught us anything, we have all learnt how important it is to stay connected with each other. Our school is a wonderful environment in which to learn, make friends and experience new opportunities and our new website will enable us to share our day-to day activities to our wider community.
With the input of students, parents, Trustees and staff we aimed to create a feature-rich school website designed to communicate our unique values and visions.
Take a look around and let us know what you think.
We look forward to sharing our news as it happens when we return from our summer break.